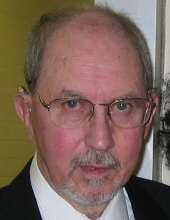 Obituary for Roland Nieves
Bellevue, NE. Roland was a retired 20-year veteran of the USAF. He served 2 overseas tours in Ankara, Turkey and Clark Air Base, Philippines. After retirement, he worked at Foremost McKesson for 10 years and in Civil Service (Manpower) at Offutt AFB for 16 years. Roland lived with Parkinson Disease for 30 years and led a Parkinson support group. Always giving of himself and his time, he volunteered for a crisis line for many years. He was dedicated to helping his family and serving others.
Preceded in death by parents, Neftali and Alicia Nieves; infant daughter, Teresa; grandmother, Elisa Alvarez. Survived by wife of 62 years, Marta Nieves; children: Susan (Michael) Vanhessche, Roland M. Nieves, Cindy Nieves and David (Michelle) Nieves; many grandchildren and great grandchildren; brother, Neftali (Kathy) Nieves; sister, Carmen (Viriato) daSilva.
Previous Events
Memorial services
John A. Gentleman Mortuaries - L Street Chapel
4712 S. 82nd Street
Ralston, NE 68127