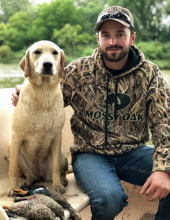 Obituary for Jacob Stephen Folda
Preceded in death by Jude and Frances. Survived by fiancé, McKenna O'Keefe; parents, Dave and Trish Folda; siblings, Matthew, Joseph, Abigail, Anne Catherine, Benedict and Anthony; grandparents, Dave and Maureen Folda and Stephen and Lois Mahowald; his extended family and good friends.

Commonly seen in camouflage, Jacob Folda was an avid outdoorsman and hunter, and his love for the outdoors was contagious. His best days were spent in nature, hunting and fishing, and from his boots to his pickup truck, he loved everything country. His grandpa, siblings, uncles, cousins, and friends were his companions and hunting with them was truly his passion.

Born in 1995, the oldest of seven siblings, Jake was all boy. Growing up, he loved super heroes and comic books, and was even known to draw his own.
Jake played baseball until the age of 15, when his love of the outdoors took priority. He played softball on the Millard Electric team when he worked there after high school. As a young boy, Jake would build duck blinds in the front yard of the family home and attempt to call in waterfowl with his duck calls. The neighbors weren't fans of his efforts, but Jake became quite skilled at the art of calling. He also loved to fish and even did so in tournaments. Jake got his first Mallard at age eleven, and was recognized as a Master Angler by the game and Parks Commission at the age of fifteen.

He graduated from Millard West High School in 2013, after which he pursued a career as an electrician. Jake completed his apprentice work in April 2017, and became a Licensed Journeyman and a Union Member of the Local 22 IBEW.

Jake's love for the outdoors soon lost priority to his True Love. Jake began dating the beautiful McKenna O'Keefe in the fall of 2012, as a Senior in high school. They met in youth group at ICC when Jake was 15. This tough guy was smitten and fell hard and fast, saying "I love you" after only a couple months. They were a perfect balance for each other. They adopted their dog Maya, his other love, in March of last year. Jake and McKenna were engaged a month later. In traditional style, Jake asked permission of McKenna's father before asking his bride-to-be. They shared a lifetime of memories in just a few short years; including a vacation to Florida, many concerts and sporting events, and of course, the hunt. They were in the midst of planning a beautiful wedding for this September. "Forever is Forever!"

Jake attended Mass at St Patrick's Parish and then Immaculate Conception Catholic Church, where he served as an altar boy for many years. He believed in the protection of Our Lady of Mt Carmel and the promises of the brown scapular and it was found on his person at the time of his death.

Jake loved his family, Mom (Trish), Dad (Dave), and younger siblings Matthew (21), Joseph (18), Abigail (16), Anne Catherine (14), Benedict (11), and Anthony (8). He loved family get-togethers, spending time with his buddies and his beautiful bride-to-be.

Jake was much loved and will be missed immensely by his fiancée, family and friends and his beloved lab.
May he find eternal rest under the mantle of Our Lady of Mt. Carmel and in the arms of our beloved Savior, Jesus Christ.

The family of Jake Folda wish to thank you all for your kind thoughts and most of all for your prayers for Jake, McKenna, their family and friends.

Arrangements entrusted to John A. Gentleman Mortuaries.
Previous Events
Visitation
John A. Gentleman Mortuaries - L Street Chapel
4712 S. 82nd Street
Ralston, NE 68127
Wake Service
John A. Gentleman Mortuaries - L Street Chapel
4712 S. 82nd Street
Ralston, NE 68127
Funeral Service
Immaculate Conception Catholic Church
2708 S 24th St
Omaha, NE 68108
Cemetery Details
Location
Calvary Catholic Cemetery
7710 W. Center Road
Omaha, NE 68124
Memorial Contribution
The family requests Mass offerings in lieu of flowers.