Our staff's commitment to you
Our staff is committed to providing support, compassion, information, and direction as needed to all members of our community, their families, and friends who are dealing with loss and grief.
John A Gentleman Mortuaries - Bellevue/Sarpy County Chapel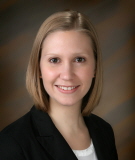 Peggy Hall
Funeral Director and Embalmer
Peggy Hall is a licensed Funeral Director and Embalmer in the state of Nebraska. She grew up in a military family and moved to Bellevue, Nebraska in 1999. A year after high school she joined the Air Force and served 4 years. After being honorably discharged, Peggy moved to New York where she attended Nassau Community College. In May of 2009 she graduated with an AAS degree in Mortuary Science. She then moved back to Nebraska and began her career in funeral service. Peggy served her apprenticeship and worked in funeral service over 4 years before joining John A. Gentleman Mortuaries in June of 2014. She is married and has two sons.